wide range of motifs is what has set
Indian jewellery
apart from the rest. The distinguishing features include a variety of
floral and animal motifs
. Inspired by the abundant beauty of
Mother Nature
, various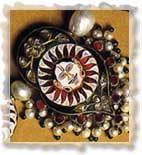 motifs in vibrant colours and intricate forms have been born, nurtured fondly by Indian craftsmen for centuries.
The
Floral design
is among the popular motifs in Indian jewellery. The ear ornament,
Kanphool
, is in the shape of a blooming
Motia flower
and is a symbol of
happiness and prosperity
. The
Pipal patra
, of
Northern India
and
Gujara
t, has a central motif of leaf from which bunches of finely shaped pipal leaves cascade. It is a symbol of auspicious occasions and abundance.
The
Champa, Jasmine flower
, is symbolic of fertility. The
Champakali motif
is a jasmine bud shaped necklace. Each pendant in the shape of a bud is strung together on a thread.
Gajra and Paunchi
are worn on the wrist and these too are floral motifs. The Gajra is made in gold and pearls. From a distance they appear as if the base of intertwined gold wire is of golden grass. Paunchi is made of a number of pieces in the shape of a flower. These are strung together and made into a bracelet.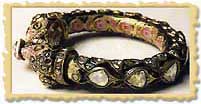 Animal Motifs
: Animal and bird motifs have been a favorite with the Indian craftsmen through centuries. It has been a distinct feature of Indian jewellery and has not been seen anywhere else in the world.
Serpent is the most favorite motif adopted by jewellers all over India. It symbolizes the eternity of cyclic time because of its capacity to discard its skin and its apparent immortality. It also stands symbolic of courage, quick and violent potency.
Motifs of
Fish and Peacock
make beautiful ornaments of the
Head, Neck, Ears and Nose
. Peacock represents immortality and beauty besides signifying love. Fish motif has been used in necklaces and ear ornaments. It represents the incarnation of Lord Vishnu, and is also one of the eight auspicious symbols, signifying abundance since fish breeds fast.
The bracelets which have heads of lion and elephants too have their own significance.
Lions
stand for strength, courage and sovereignty, while the
Elephants
stand for strength, visibility, calmness and gentleness.
Among the south Indian jewellery, the
Kirtimukha (lion faced)
motif is very popular. The
mythical bird gandabherunda (two heads and body)
is a beautiful piece of art.
Mughal Motifs
: The Mughal patronage of the jewellery brought distinct changes to the art of jewellery making. The Hindu designs were gently modified to incorporate various geometrical and floral designs.
Hindu jewellery depicts scenes from the ancient scriptures and gods and goddesses formed the main themes. But since the depiction of human figures is prohibited in
Islam
, the existing art of engraving figures took a back seat. These gave way to floral and animal designs.
The combination of crescent and stem dominated the Muslim jewellery. Earrings had a small stem at the top of a crescent from which was suspended a fish, which further led to a bunch of pearls. These became a regular feature of the
Mughal jewellery
.